Man­age your appli­cants and receive reg­u­lar detailed activ­ity reports.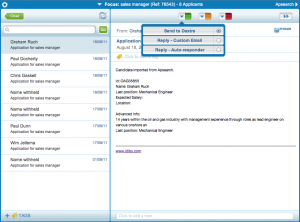 Aptrack is can­di­date man­age­ment and per­for­mance analy­sis soft­ware that plugs straight into Adpost. It allows you to track and man­age all appli­cants from job boards and your own site*, as well as pro­vid­ing detailed analy­sis of board effec­tive­ness, and con­sul­tant activ­ity in the form of weekly and monthly reports.
Aptrack makes it quick and easy to man­age all your appli­ca­tions from one place.
Ben­e­fits of using Aptrack:
Job Board Analysis
Full data pro­vi­sion shows the qual­ity and quan­tity of appli­cants and where they come in from. View the ratio of applicants/ads posted for dif­fer­ent boards, dis­cover how much each appli­cant is cost­ing you.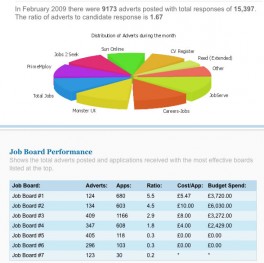 Can­di­date management
Unlim­ited cus­tomis­able auto-responder emails, rate and organ­ise can­di­dates, for­ward to other teams or branches or send into your CRM.
Con­sul­tant Analysis
Sta­tis­ti­cal feed­back shows which con­sul­tants cre­ate the most effec­tive adverts, their response rate per appli­cant as well as each con­sul­tants adver­tis­ing cost.
Monthly and weekly man­age­ment reports
Choose from a range of dif­fer­ent reports to show how, when and how well your team is work­ing. Com­plete break­down of ads posted, appli­cants received, data sum­maries by month/week/day/hour.
Take your data away with you
Down­load reports to your spread­sheet when­ever you want to. Make offline analy­sis and cre­ate archived records. Talk to our team about cre­at­ing cus­tomised reports to offload data directly with your own inter­nal systems.
Aptrack saves you time, money and improves effi­ciency. Like all idibu prod­ucts it is fully cus­tomis­able and can be adapted to meet your busi­ness' needs.
Related links: job post­ing soft­ware, advert dis­tri­b­u­tion, appli­cant track­ing sys­tems, CV search.